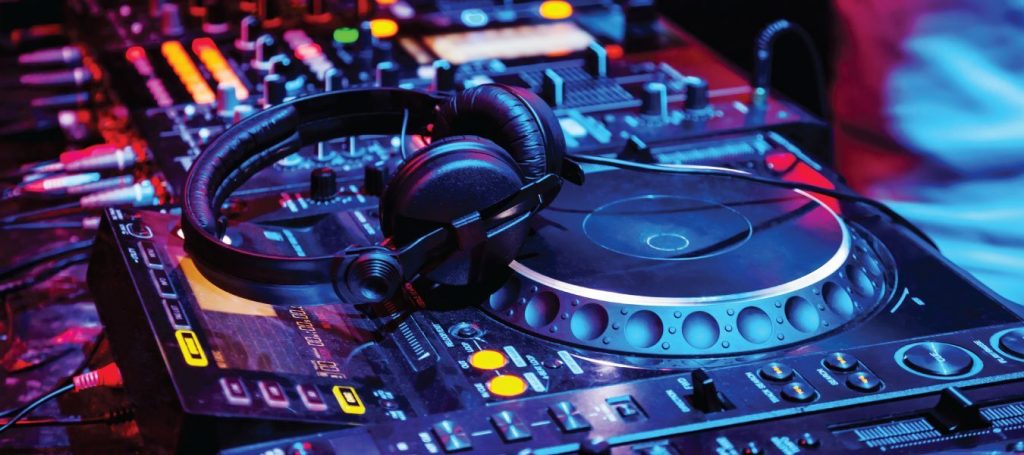 Planning a wedding or event, you need entertainment. Usually, people will hire a disc jockey, but you can also hire a band or singer. A DJ will not only provide entertainment throughout the evening for your guests but will also play music continuously, while singer or band may take a break through out the night.
A good DJ will play all the music requested by your guests, as well as a special selection by you and your guests. DJ's will come prepared, with all the equipment, you can provide a DJ lighting, Photo Booth, Dry Ice, and party favors and games for your guests upon request at additional costs.
There are many DJ's to choose from, so be careful when you make your choice. Some DJ's may be a beginner or have not played at a previous event. Make sure to look for online reviews of the DJ Service, if possible, try to find a previous client, to see if they have performed well in the past.
If looking for a wedding DJ, they must have experience with wedding celebrations arrangements. Presentation and appearance is important, you do not want cables running all over the place, and they must have their equipment set to the side, not in the way of one of the guests.
Your DJ will play light, pleasant music and the corresponding request from your guests and yourself. Also, they will come prepared with a microphone for speech, and party favors for you and your guests.
Please see below a list of Questions to ask a DJ when hiring
1. What about People you know like Friends and Relatives?

Every occasion will happen just once, and it has to be done well. If you are considering this to save money, but it could cost you a friend!

2. How experienced and long has the Disc Jockey been working doing this?

Experience and training is a must if your special occasion is to be a one full of memories.

3. Do they belong to an Association?

An Association allows members to network with other members for support. When you have a membership to an association, the member has many standards to follow. DJ MasterMix is a member in good standing with The CanadianProfessional Disc Jockey Association. When a DJ is a member, you as the client have a place to voice any concerns or complaints about the company.

4. Are you licensed by the Connect Music License?


We uphold the highest standards of business including being fully Connect Music licensed. This gives us legal permission to play music from a digital source. If a prospective DJ company does not have legally licensed music, then they may be operating illegally. If they must break the law to stay open, then think about what else they may be doing that could potentially harm your event.

5. Does the company have Insurance?
Liability Insurance - This allows your safety at your special occasion, in case any injury or damage occurs from DJ MasterMix. DJ MasterMix has a 5 Million dollar Liability Insurance Policy

Equipment insurance - Prevents you from being held responsible for any equipment stolen or damaged during your special occasion.

6. What type of equipment do you use?

Professional Audio and lighting equipment should be used for any occasion. There are some Disc Jockey who brings a home stereo. Professional equipment is durable and is made to sound good and be played over a long period.

7. What is your Backup service policy?

What if the equipment fails? What if the Disc Jockey is sick? A Professional Disc Jockey Service has backup equipment readily available and professionally trained people on read until the completion of your function.

8. What is your Dress Code?

No matter if your function is casual or formal, the Disc Jockey will be dressed as to what we have discussed you want for your occasion.

9. How are requests handled?

Yes, Request are wanted, and a professional Disc Jockey will always have a wide variety of music types available. We even have some clients that like how we have request cards at the tables or that they can also text message there request to the DJ. DJ MasterMix carries over 50,000 songs to each event. The music Library is updated weekly from XtendaMix.

10. Getting value for your money, may sometime need to BEWARE.

Ever Hear, `You Pay for what you get` When Looking for a Disc Jockey look at competitive pricing and see what is offered with that service. DJ MasterMix will work with you to help make your customized Dream wedding or function at a reasonable cost. Just to save a few bucks and going for the `Bargain Basement Pricing`may later cause you much stress on your wedding day.

11. Can you call past clients or see a customer testimonials?

A Professional Disc Jockey that has been in business for sometime, will have many client testimonials for you to read or call. They should also be on many vendors referral lists as well. Check out DJ MasterMix testimonials.

12. Provide a Written guarantee for the services?


Yes, this is a must for you as the client. This protects you to make sure you get what the DJ has discussed with you in writing. It will state all the details of payments, date, location and any other terms with your services. You don't want to say it's your word against his word. Protect yourself and make sure you have documentation.


Finally, when choosing your Disc Jockey, remember to use wisdom and common sense with the services you are choosing for your wedding or function. Make sure that the Disc Jockey service you hire, that you feel comfortable with the services they have promised to deliver you, and that you have complete faith in them with what they are offering you.
Michael - DJ MasterMix